Help Menu
The last item on the main menu is the Help menu.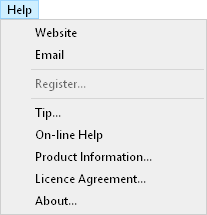 The following options are available from this menu:
Website: Takes you to the PhatPhish website.
Email: Opens an email to the author.
Register: If you have an unregistered copy of PhatPhish, then you can use this option to enter your registration code.
Tip: Displays a tip for using PhatPhish, and also allows you to specify whether or not PhatPhish should display a tip each time it starts..
On-line Help: Displays this on-line manual.
Product Information: Displays information about the PhatPhish application.
License Agreement: Displays the license agreement under which PhatPhish operates.
About: Displays a dialog showing the version, etc. for the version of PhatPhish which you are using.
---