The Man Behind PhatPhish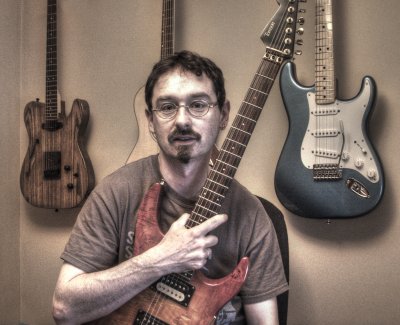 Hi - I'm Dave Dixon - the creator of PhatPhish.
I began playing the guitar in the mid-1980s. After a spell messing around playing rock and blues in number of hobby bands I decided it was time to start taking the instrument more seriously. I began exploring music theory in more depth, and this included a period spent studying at Musicians' Institute in London.
Over time, my musical tastes have expanded greatly, and whilst blues and rock are still very dear to my heart, my music collection is so wide and varied that some people find it frightening. Pretty much anything and everything from heavy metal through to classical, via blues, rock, pop, jazz, country, even the odd bit of dance music. So long as it's not hardcore gangsta rap, or hay-nonny-no folk music, then I probably listen to it.
In the early 1990s I started teaching guitar and general music theory, and nowadays I make extensive use of the Internet to provide guitar and music tuition. I publish tutorials and provide advice through the PhatPhish website, as well as the PhatPhish channel on YouTube. I also contribute to a number of on-line ask-the-expert forums.
As well as the music and the guitar, I also develop software. This combination led to the creation of PhatPhish, which has grown from a little hobby project to something which is now used the world over by hundreds, if not thousands, of guitarists. Along with this, a little online community has grown around the product on Facebook and I welcome the opportunity that gives me to interact with PhatPhish phans.
I hope that you find PhatPhish, and the other bits and bobs available here, useful. Please take the time to get in touch via the Feedback form, or pop by the Facebook page and say 'hello'. I look forward to hearing from you.
Dave Dixon, May 2013
---